Name:FrostMourne (Not necessary)
Attributes: black, and frost
Appearance: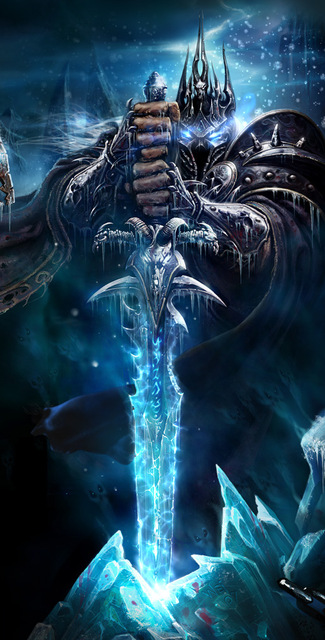 Techniques:The blade is enchanted and cursed so that it never dull's or break's at least by any mortal mean's,and hold the very soul of the dreaded Lich king as well as Cain blackwood's own soul it was the ability to drain life from its victims - and to drain the soul of anyone whom it connects to Finally the sword is able to suck the being's soul into the sword. Frostmourne then retains the memories and skills of its victim granted the victim is weak.the lich king can give his advice and knowledge to cain black wood as well as long as Cain's soul is within the sword it can't truely die
Abilities:
Name: icy rage
Type: Offensive
Description:Send's a powerful blast of icy energy toward the enemy it cause's damage. as well as freezing the area it goe's over if the enemy is weak enough,and enough power if appiled it can put someone in a frozen state for 3 post.
Name:
Type: Defensive
Description:cain create aa wall of ice to protect himself or orother's from damage witch can be broken with enough force against it
Wrath of the Lich King:this forbidden skill allow's the Lich King soul possaion of one body and use his full power and skill's,for 7 post the Lich king can use the orther skill's to a,much greater limit and his body heal at a very rapid rate in this form his eye appear as icy blue with frost like energy comeing from them
Last edited by Cain blackwood on Sun Nov 23, 2008 1:34 am; edited 1 time in total
Name: Hellfire piller

Type: Offensive

Description:This is used in LIch king form you held out both hand's and black fire hotter then any in the mortal realm shoot's out form your hand's and head's for the enemy
I'm counting that skill as a fire technique, you may only have dark, ice and neutral...
Cain blackwood wrote:Name: HellBlast piller

Type: Offensive

Description:This is used in LIch king form you held out both hand's and powerful black energy stronger then any in the mortal realm shoot's out form your hand's and head's for the enemy
I edited it sorry bout that i forgot stupid me


Similar topics
---
Permissions in this forum:
You
cannot
reply to topics in this forum